This screencap of @Drudge_Report says it all. #economy #fail #p2 #tcot #tlot #jobs pic.twitter.com/W3KDfXe3

— Stacey-SisterToldjah (@sistertoldjah) January 4, 2013
Another brutal Drudgetaposition today as unemployment matches the level it reached in 2009 when President Fore-ward took office. Obama still isn't working: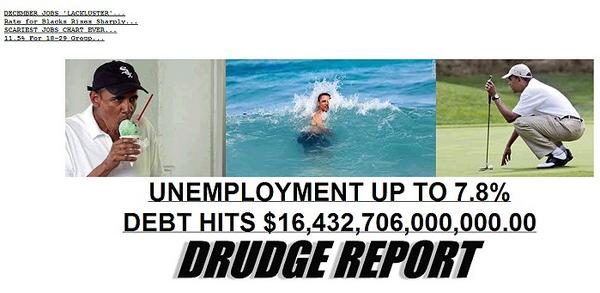 Economic stagnation? Huh? Can't you just let him eat his waffles? Or slurp his ice cream?
ESSENCE OF DRUDGE: Pics of Obama Antoinette frolicking in "let them eat cake" moments pjmedia.com/instapundit/16…
— Mark Schiffer (@synathlete) January 4, 2013
LoooooooooL checkout headline pics @drudge LooooooooooooL
— Barry Choom (@rapidcraft) January 4, 2013
@drudge I love drudge!!!!!!Great photos with current headline
— Erinn Meade (@Erinn2ns) January 4, 2013
Love Drudge's headline of Bozo Bama enjoying his vacay as the country crumbles for everyone to see: drudgereport.com#tcot #RisingDebt
— Sonya A. Willis (@JangoBear) January 4, 2013
Possibly the best (worst) drudge report headline ever #nobama #ourpresident #unbelievable instagr.am/p/UEQgNYn1O6/
— James Trikur (@LLCoolJamess) January 4, 2013
Read more: http://twitchy.com/2013/01/04/obama-doggy-paddles-as-rome-burns-drudge-smacks-potus-for-lackluster-jobs-report/